Metallic finishes are very popular in all home decor, including lighting, baths, bathroom fittings and home accessories. Tiles are no exception, and some beautiful new ranges have been launched recently. For instance copper, bronze & gold tiles, with textures or mirror finishes for a truly opulent look. Consider using large copper tiles throughout the room, or details such as shaped metallic mosaics as a feature.
Ceramic and porcelain tiles can emulate many different metals. From copper & bronze, to aluminium, titanium & steel, and of course gold & brass.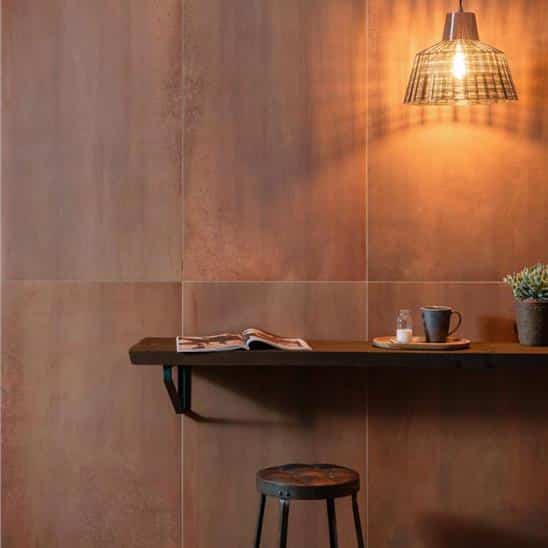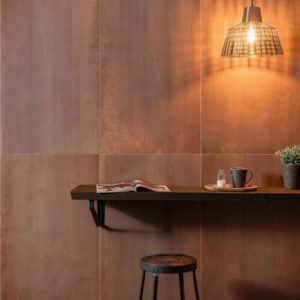 Metallic tile finishes such as bronze & copper often have a more rustic style, with hints of rust elements. This lends itself to a more industrial style of interior design. What's more, the industrial look is a key trend of 2020.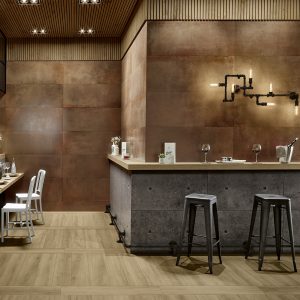 Gold & brass metallic tiles give off an opulent elegance. Reminiscent of a bygone era, or Middle Eastern luxury. Small details such as gold mosaics and gold taps & showers give a nod to this style without going overboard. For example hexagon or herringbone shaped mosaics, or gold leaf glass tiles, will create a huge impact. If you don't fancy copper or gold, another popular choice is metallic steel effect wall tiles and mosaics. This look is more understated but equally stunning, and exudes class and style. In addition, lighter shades such as silver and platinum effect can be very effective. This includes both large tile formats and mosaics. Our large showroom is the best place to see all the metallic wall tiles we have to offer. We have beautiful displays of these ranges, as well as many other manufacturers' offerings. In addition to wall tiles, we also display some fantastic large format floor tiles in metallic finishes. However, some of the collections can be seen in the links below.
Glassworks – by Original Style
Metal wall tiles – by Original Style
Metallic mosaics – by Original Style (pages 40-63)