It's important not to overlook bathroom lighting when planning your new bathroom. Think about matching wall lights and ceiling lights whether flush, pendant, or linear. Or make the ultimate statement with an over-the-bath chandelier. Whatever you choose, your bathroom will benefit from a combination of functional lighting and softer mood lighting. Especially for those lazy evenings when the bathroom transforms itself into your personal oasis of calm.
Beccles Tile & Bathroom Centre has a wide range of lighting to choose from, with many lights on display in our showroom. Ranging from vintage and retro to contemporary and modern, simplistic beauty to sheer opulence. With this in mind, we have the lights that are perfect for each room in your home.
Choose your new light from a staggering selection of finishes. These include Polished Chrome, Polished Brass, Polished Antique Nickel, and Polished Gold. Or if you prefer a more understated look there is also Brushed Brass, Brushed Nickel, Burnished Brass, Classic Pewter, Matt Black and Satin Nickel finishes.
Not to mention most of our lights now use LED bulbs. These last much longer and use less energy than traditional bulbs. Furthermore, you can be sure that all the bathroom lighting we sell meets UK and European standards, and has an IP rating of at least IP44. This is covered in greater detail at the bottom of the page.
If you want a modern ceiling light that is unique, plays your favourite music, and changes colour to suit your mood, then look no further. Because the Rhythm Bathroom Light features a Bluetooth-enabled speaker that plays your favourite music, podcast or audiobook straight from your device. Its remote control lets you adjust the volume & skip a track. And it can even change the dimmable LED light from cool white to warm white and though a spectrum of red, green and blue hues. This groundbreaking light helps you personalise your bathroom experience. Thus setting the tone for an energetic morning routine or an indulgent evening pamper. 
What's more, you can see this light working in our showroom.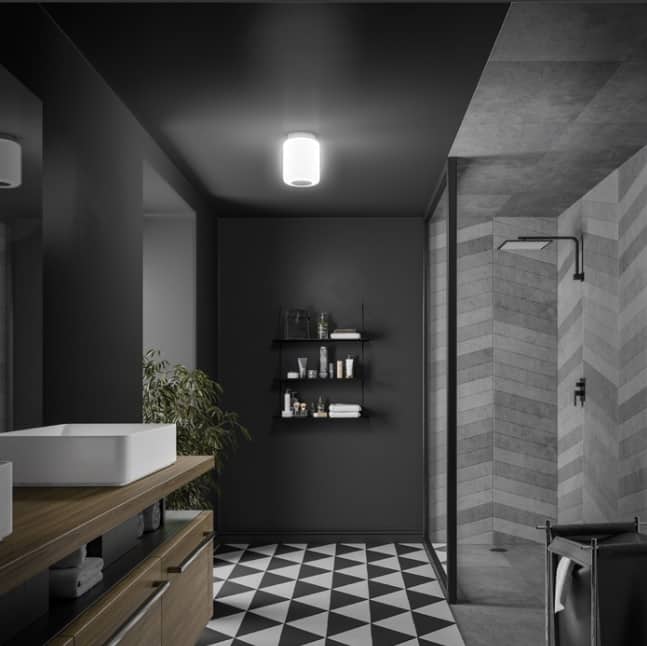 When you buy lights for the bathroom they must adhere to strict UK & European safety regulations that avoid mixing water and electricity. They should be installed by a qualified electrician familiar with the IEE regulations 17th edition.
Your chosen lights must have the correct IP rating depending on the zone they are being used in. Typically lights intended for use in the bathroom are IP44 or greater. Therefore this makes them suitable for use in Zones 1 and 2. 
For safety, lights should be operated by pull cord, sensor or by light switches located outside the bathroom