Freestanding Baths have long been a favourite in the bathroom. They always look stylish and impressive. Choices include period roll-top or slipper baths, or modern, minimalist baths. You can be certain your stylish, new freestanding bath will instantly be the highlight of the room
Manufacturers including Waters, Adamsez, Heritage, Imperial, Carron, and Pura produce their baths with various materials. Choose from cast iron, stone resin, or double skinned acrylic. These materials are all chosen for strength, durability and their heat retaining properties.  
Generally all baths are supplied in white as standard. Some can be painted any colour, and many manufacturers now provide a painting service. Your freestanding bath will be unique and totally your own style. It can also match or compliment other colours of the bathroom.
Cast Iron Freestanding Baths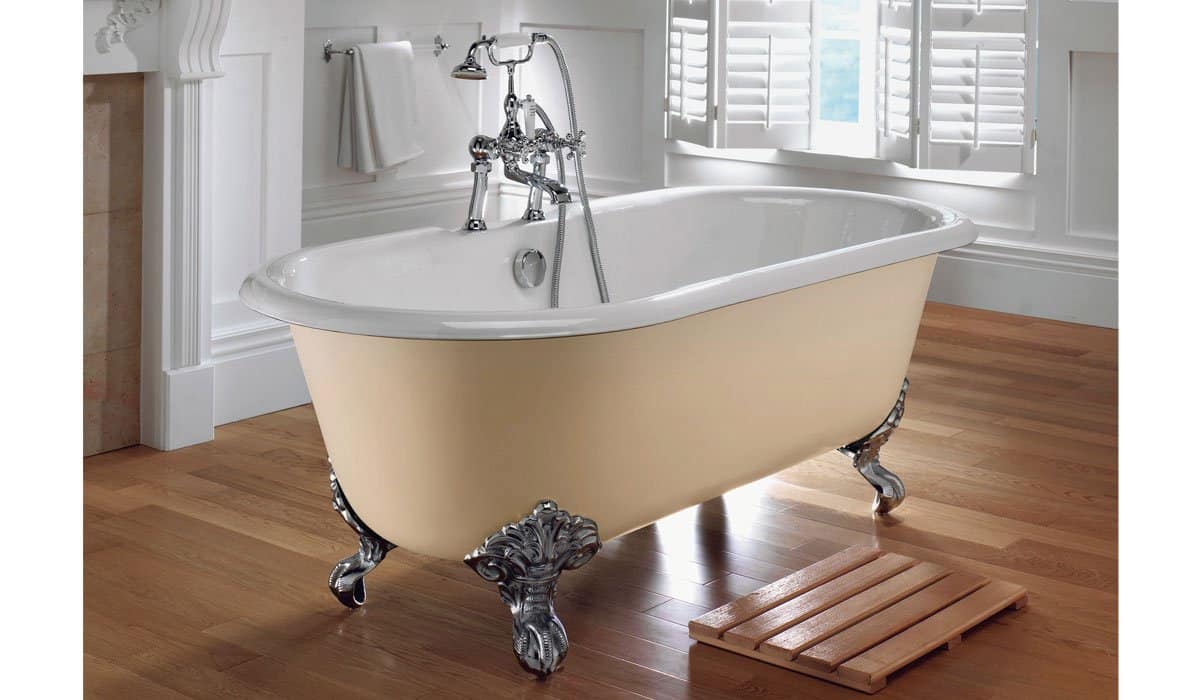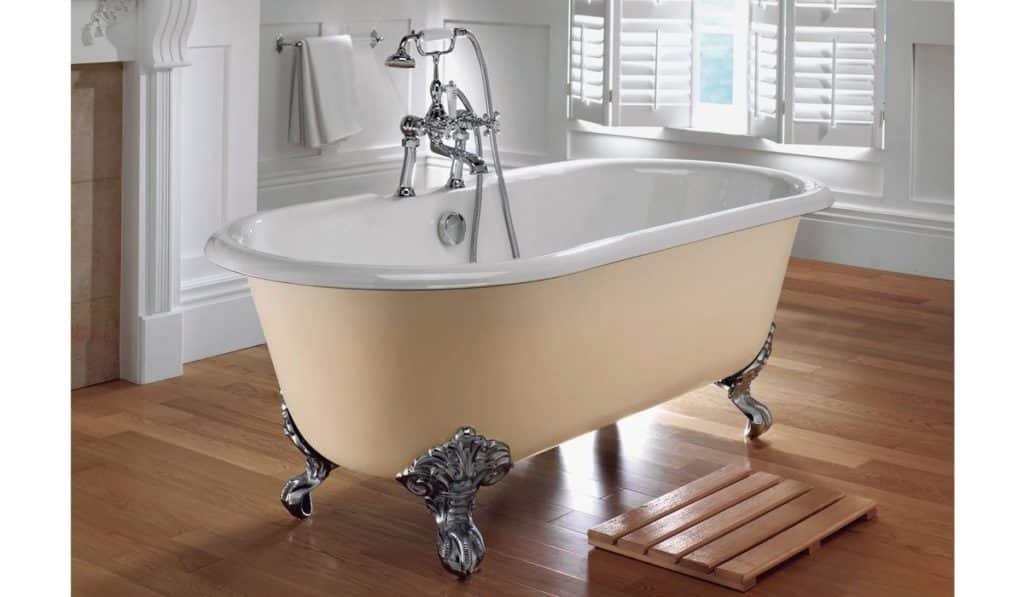 An example of the iconic Victorian freestanding bath is Imperial Bathrooms Bentley double ended bath. It looks stylish in any bathroom whether traditional or contemporary.
The bath can be painted to match the rooms decor, or in any colour, as the exterior is supplied in a grey primer. The bath feet come as primed cast iron with chrome, white or antique gold finish options.
Imperial can paint this bath exterior & primed bath feet in your choice of 170 RAL colours. They will also match any Farrow & Ball or Little Greene colour.
Imperial Bathrooms' Ritz slipper bath suggests opulence and grandeur from a bygone age (shown right). It is also supplied with a grey primer that allows you  to stamp your own personality on the bath by choosing colours to match or contrast those in your bathroom.
It is produced in 2 different lengths, 1540mm and 1700mm.
See this bath at our Beccles showroom. It is part of a stunning Imperial Bathrooms display alongside complimentary furniture and sanitaryware.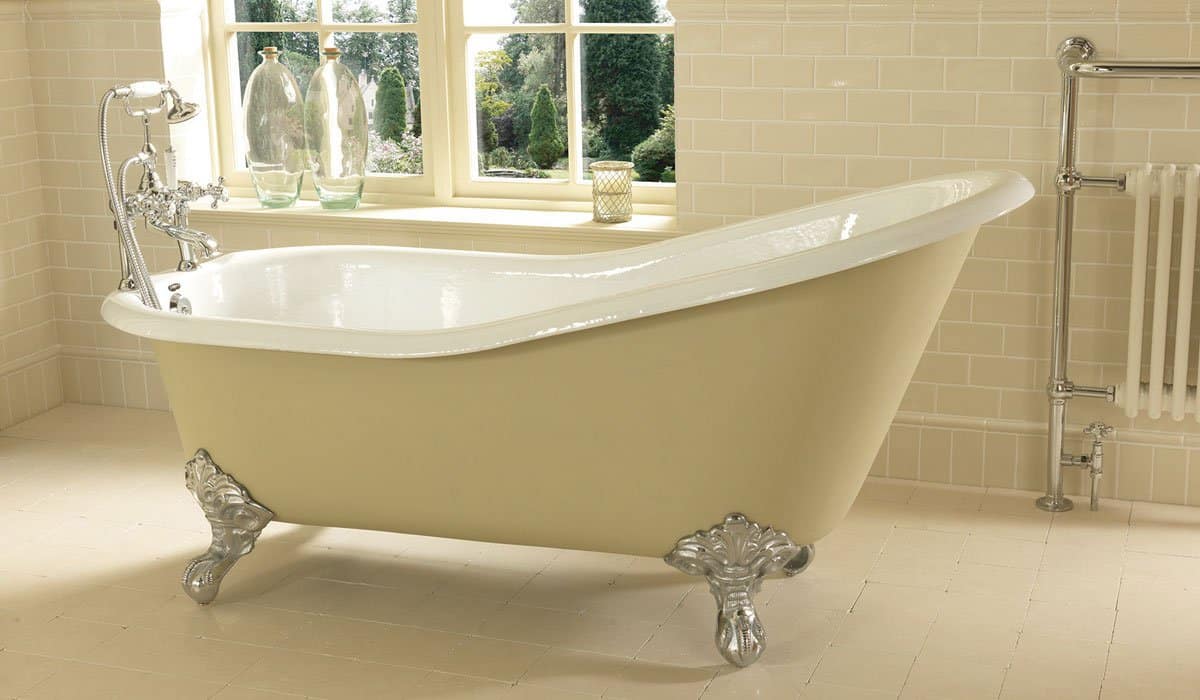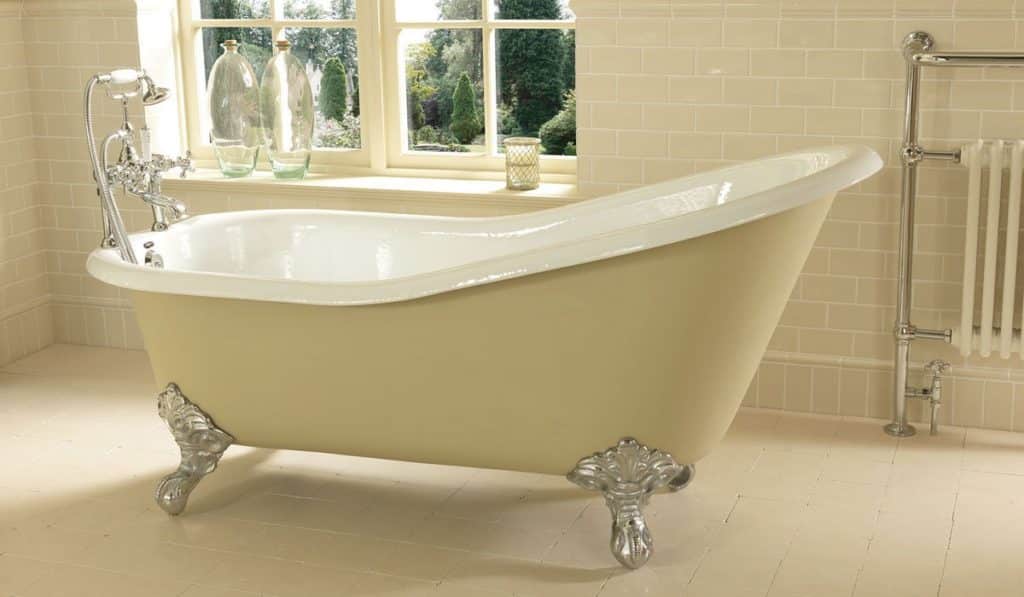 Acrylic Freestanding Baths
Manufacturers such as Imperial, Heritage, Carron, Pura, Waters, and Adamsez produce highly impressive acrylic freestanding baths. They use a reinforced fibreglass/acrylic combinations to produce incredibly strong, rigid baths. These have benefits such as amazing heat retention, natural stain resistance, and a beautiful, luxurious appearance. 
Waters Baths of Ashbourne offer an impressive range of custom freestanding baths.  They come in various shapes and sizes to suit all styles of room whether large or small. 
The 'Spa' Bath (shown right) has beautiful curves and raised ends. These are designed to support you after a tiresome day.  The bath is made from Lucite, an innovative form of acrylic that is both UV stable and colour fast. Lucite baths are more resistant  to wear from household cleaning products than some other bath materials. It also has anti-bacterial properties. The 'Spa' freestanding bath is strong, and rigid with a luxurious, long lasting abrasion resistant finish.
Waters backs up the quality, longevity and attraction of all their freestanding bath tubs with a lifetime warranty.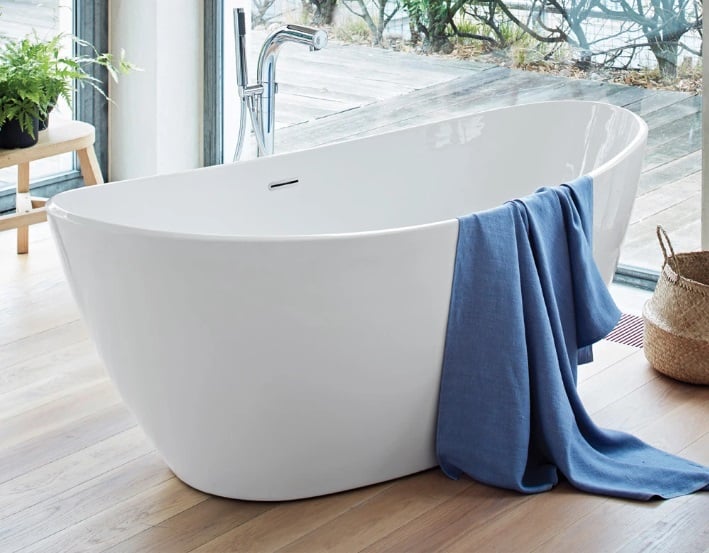 Pura Bathrooms produce baths of quality and outstanding design. They are a relatively new addition to our showroom, but have quickly become a favourite of customers.
Their Puracast range of baths have 7 layers of resin-bonded fibreglass encapsulation, covered by finest quality acrylic lucite. This creates one of the strongest baths available, while also providing comfort and excellent thermal retention. 
The Essence (shown right) is a stylish, modern freestanding bath with simple, delicate lines. Available in both 1500mm and 1700mm lengths.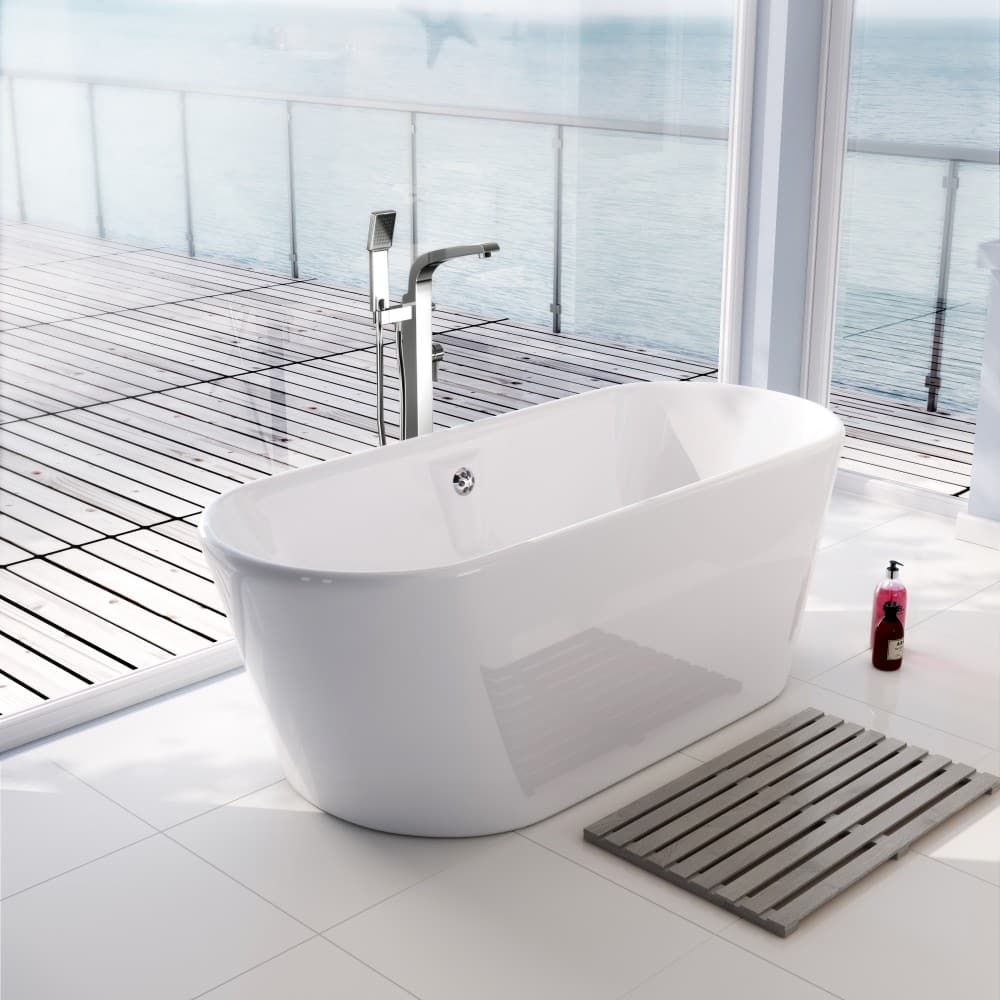 Back to wall and corner Freestanding Baths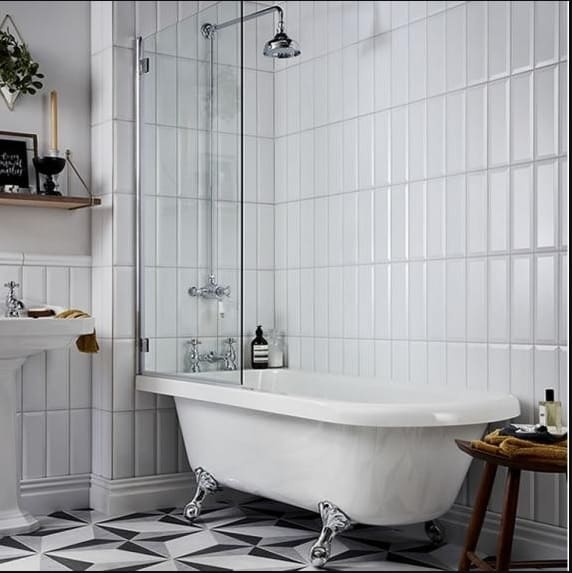 Waters 'River' Back-to wall bath (shown right) has gentle curves and a contemporary style. It gives the appearance of a freestanding bath while sitting firmly against a wall.
Consider a back-to-wall or corner freestanding bath if you have a smaller size of bathroom. These give the illusion of being freestanding although they are not strictly speaking.
Heritage Bathrooms produce a wonderful corner freestanding Victorian-style acrylic bath called the Tilbury (shown left)
This bath is exceptionally rigid and perfect for showering. The iconic chromed feet display a traditional appearance and help give a freestanding appearance.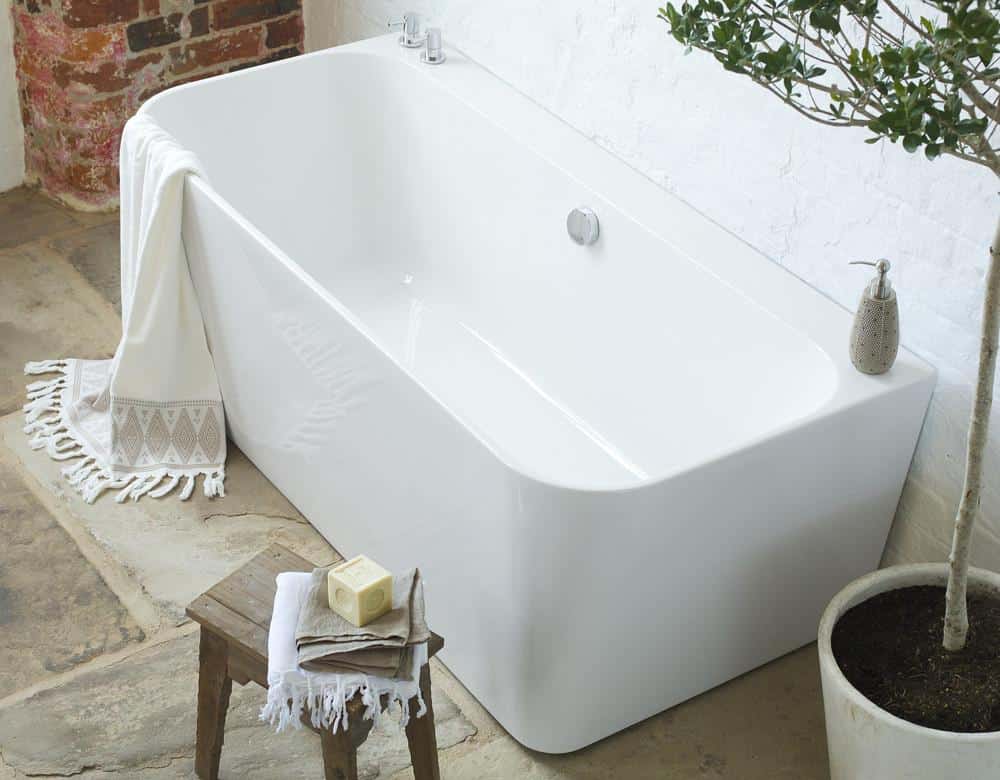 Stone Resin Freestanding Baths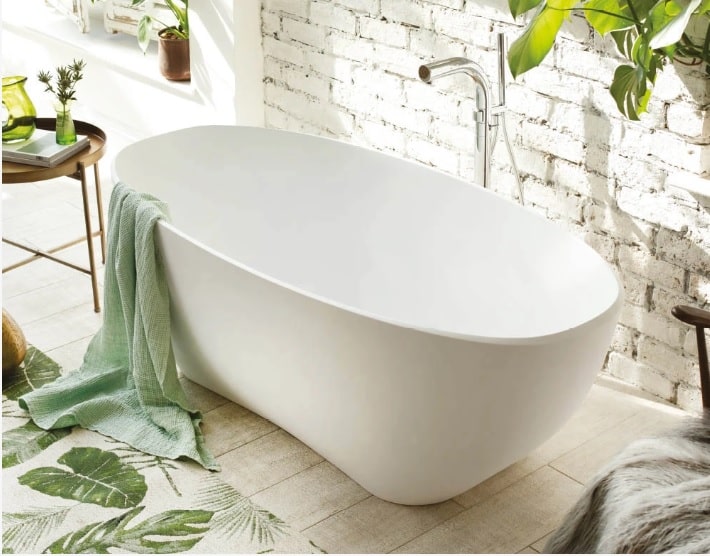 Waters Baths produce a range of stone resin freestanding baths in soft comfortable shapes. These are designed to insulate and cocoon you. They are made from a natural material that has taken millions of years to form, and have a sublime matt finish.
Waters' Evolve freestanding bath (shown left) has gentle, evolving curves that blend together creating a luxurious organic bathing haven.  It can be painted in a range of colours, and comes with a lifetime guarantee.
Waters offer a wide selection of shapes and sizes of freestanding baths which can be painted in an eggshell finish.
There are no strict rules about what colour to paint your freestanding bath, but things to consider include:
Purpose, shape and direction of the room.
Light should also be considered. It will contribute to the changing appearance of colours.