Nuance by Bushboard is a brilliant wall panelling system created specially for bathrooms and shower enclosures.
The panels are made using a synthetic, homogenous core that is 100% impervious to water. This core is covered by a high-performance laminated surface. The panels are then installed with a waterproof adhesive and sealant.
This system is an alternative to tiles, does away with grout lines, and is 100% Waterproof. Plus it's even guaranteed for 15 years.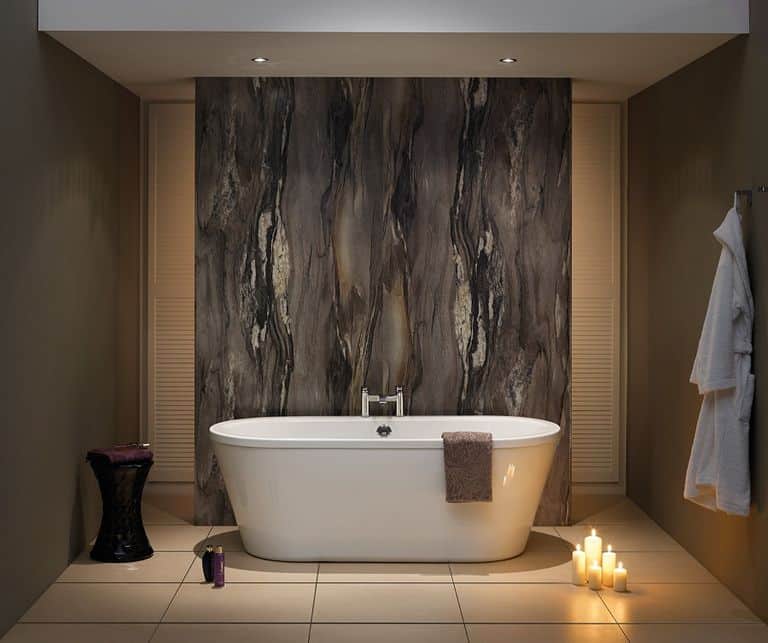 key features of nuance wall panels
Nuance panels have a postformed outer edge which means no trims are required for finishing.
The tongue and groove panels can be jointed with the special adhesive. Therefore, this creates joints which are 100% watertight and virtually invisible to the eye.
Nuance wall panels can be tailored and installed in a matter of hours, much faster than traditional tiles. If you are planning a bathroom project, you can cut down on the disruption and time taken compared to tiling.
This makes them ideal for refurbishments because they can be installed straight over almost any surface, including tiles.
See our showroom displays and pick up a free brochure. Find out how easy it is to transform your bathroom using the Nuance Bathroom Wall Panel System. 
Nuance Waterproof core board colours