Shower Trays come in a wide range of shapes, sizes and materials. It's usually preferable for trays to be lower with less of a step, or even let into the floor with no step, where possible.
Our low profile stock trays are only 40mm high, but trays as low as 25mm are available. Waste positions can vary between manufacturers, so we can usually find alternatives if you need a particular location. Some trays also have options for upstands if required.
For those seeking something a bit special, we offer slate effect shower trays with a rippled, non-slip surface.
If you're looking for a coloured shower tray, or non-standard shapes and sizes, or even trays with matching wall panels we have you covered with products by Fiori and Ambiance Bain.
There are many shapes, sizes, and styles of shower tray available, so if you don't see what you're looking for here please give us a call to discuss your requirements
40mm Low Profile Shower Trays
Our most popular range of acrylic capped, stone resin shower trays combine the durability and warmth of an acrylic top surface with the rigidity and solid feel of stone resin. They are available in an impressive range of shapes and sizes to suit your chosen shower enclosure. They can also be installed using the appropriate leg and panel pack for even greater ease of fitting.
40% lighter than a high wall stone resin tray.
A stylish tray which delivers high quality looks and functionality
The sleek Low Profile design is available in many special shapes and size
Suitable for most types of enclosure
Complies with BS EN 14527:2016
Use with our 90mm High Flow Waste
Made with WRAS approved Phthalate free materials
25 Year Guarantee

Available

with Anti-Slip Surface for an even safer showering experience.
Sizes range from 700x700mm and go all the way up to 1200x1200mm.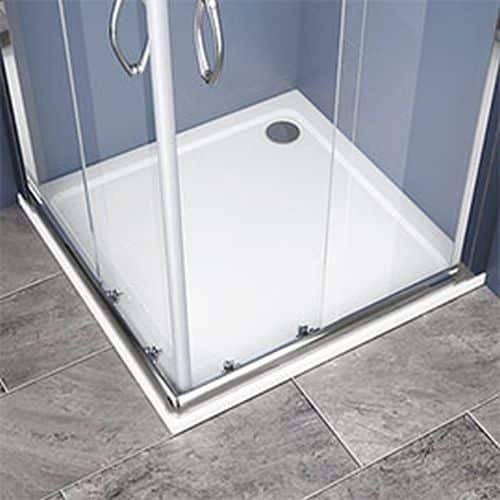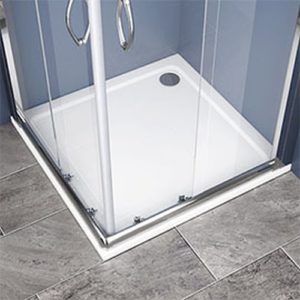 Sizes range from 800x700mm going up to a massive 2000x900mm.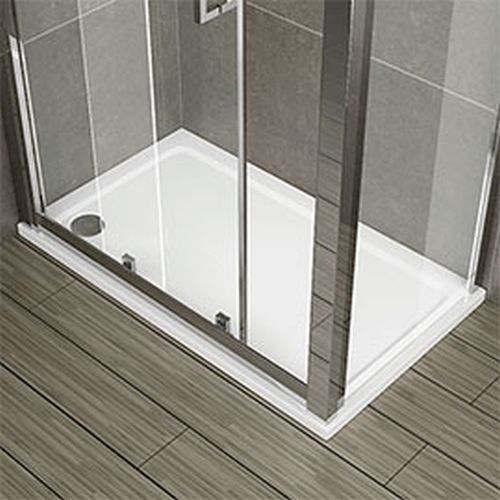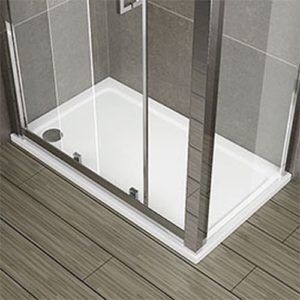 Quadrant shower trays to match your enclosure come the in sizes: 800x800mm, 900x900mm, and 1000x1000mm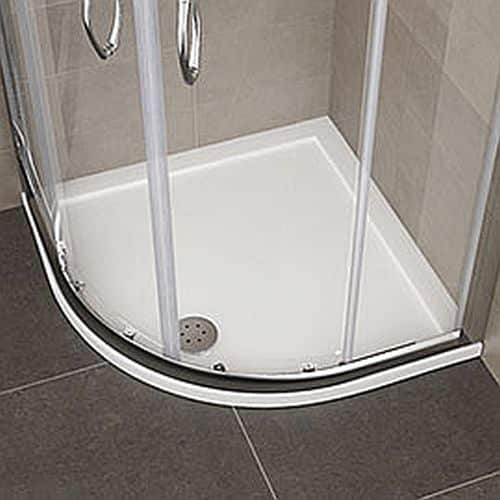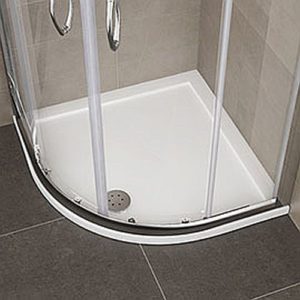 Offset quadrant shower trays are handed to match your shower enclosure, and come in sizes ranging from 900x760mm going up to 1400x800mm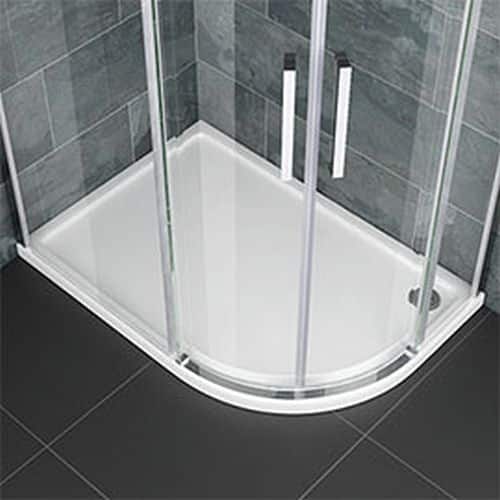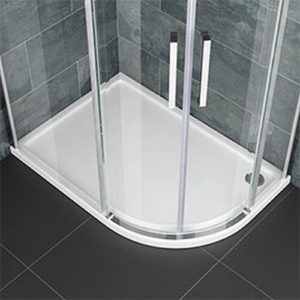 Pentagon trays are less common, and tend to measure 900x900mm.
1000x1000mm trays are also available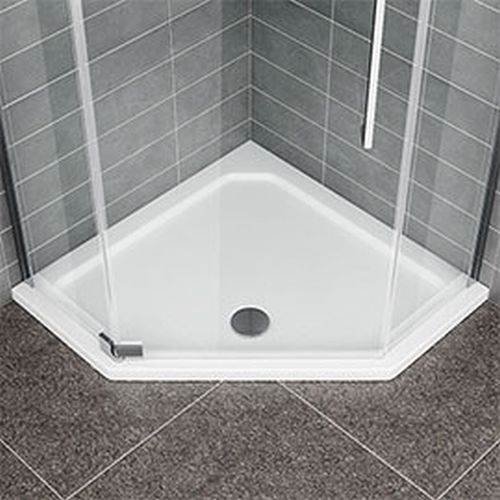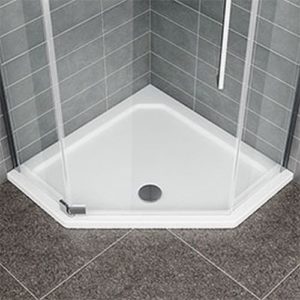 Measuring 1700 x 700mm and with the waste position at the far end, replacing a bath with a shower is made easy.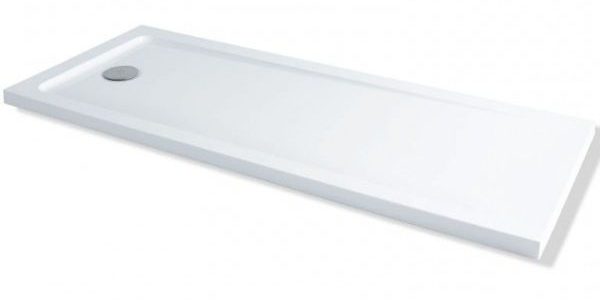 25mm Ultra Low Profile Trays
Made in the UK from 100% natural resin, our range of ultra low 25mm profile shower trays are strong, durable and come with a lifetime guarantee. Available in square, rectangular, quadrant and offset quadrant, and in a wide range of sizes.
100% natural stone resin
25mm ultra low profile
Unique leg set available for easy installation
Durable and repairable gel coat finish
Easy clean 90mm vortex waste delivering up to 30 litres a minute
Lifetime guarantee
High flow waste – waste
Anti-slip tray available –

conforms to BS7976-2

 
Lifetime anti-slip guarantee
Easy clean surface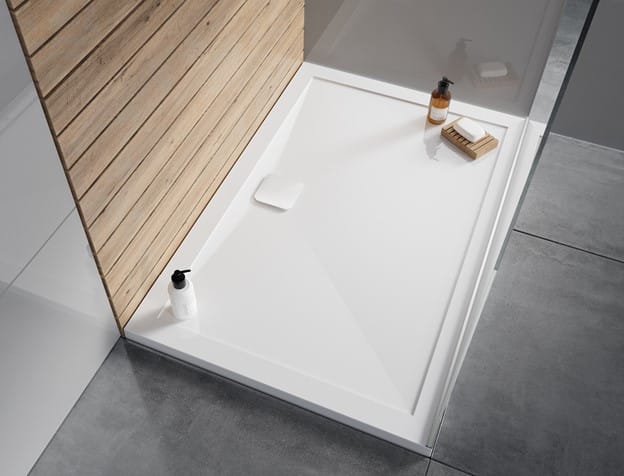 Fiora and Ambiance Bain Shower Trays
Altima Shower Trays by Ambiance Bain are made from SMO, a mixture of natural stone and a binder covered with 1mm surface gel coat. Fiora make their shower trays from Silexpol, a high density material made of an agglomeration of silica, quartz and polymer. Both companies produce trays which are tough and durable, and have a wide range of colours and finishes available.
Matching wall cladding made from the same materials are also available to give a totally coordinated look, with Fioras' Skin wall panels, and Ambiance Bains' SMO system.
Highly resistant to scratches, dents and chemicals, you can trust Fiora and Ambiance Bain shower trays to stand the test of time.
Shower trays can be ordered in standard sizes, factory cut to specific dimensions or can even be cut to required size on site.


With a low height of only 30mm, both Fiora Silex and Ambiance Bain Altima shower trays can be fitted onto flooring joists and inset into the floor for a wetroom look.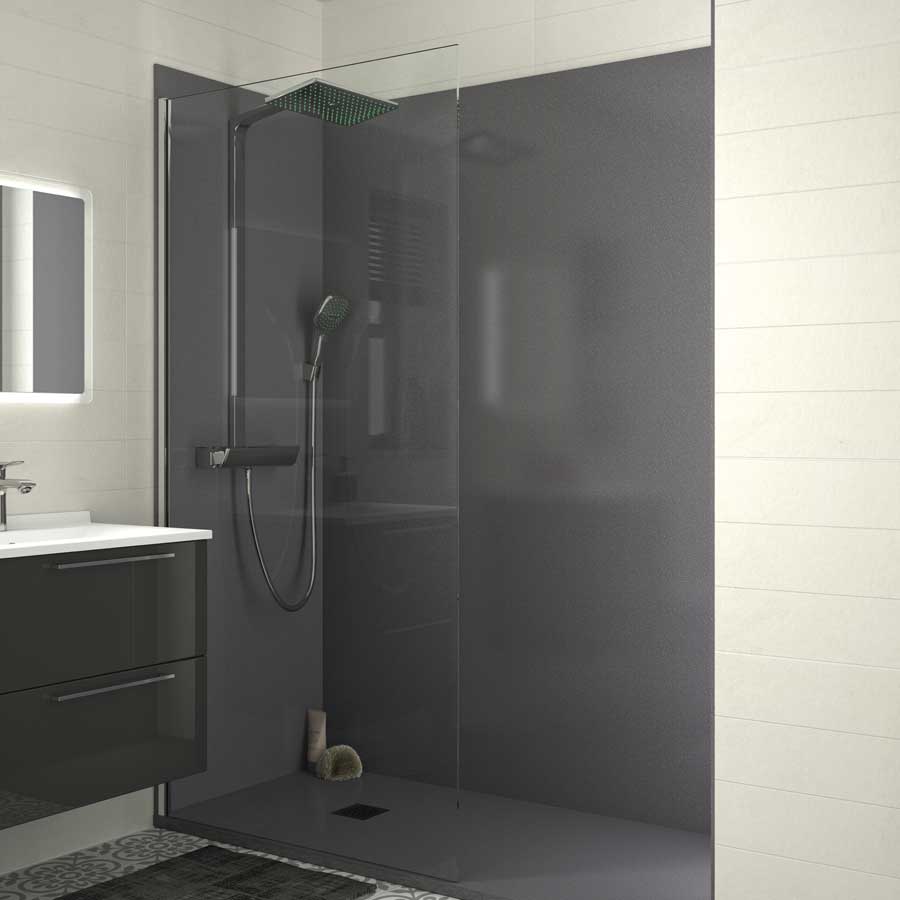 Ambiance Bain Altima shower tray with matching wall panels 
Slate and granite effect shower trays
Slate or Granite effect shower trays look stylish and modern, so tend to be ultra slim. This creates a Wet Room experience by having such a minimalistic look.
Here is just a small selection of what is currently available.