Aqua-Step waterproof laminate flooring offers a range of stylish wood-grain and tile effect finishes. With full plank, half plank and mini tile designs – all featuring a 4V bevel – there's a practical and elegant finish for any interior. Ideal for use throughout the home, its water resistant qualities make it ideal for use in bathrooms, kitchens, utility rooms and dining rooms. Aqua-Step is also suitable for commercial applications, with R10 slip resistance on selected lines to ensure a safe surface even when wet. And with 20 years residential warranty (5 years commercial), you can be sure of a floor that's both long lasting and sophisticated.
100% Waterproof Laminate flooring
Aqua-Step Mini Tile Range
This collection of Mini Tile designs features the Brush Finish R10 anti slip treatment to the surface, meaning that the product is ideal for use in both commercial and residential environments. The textured surface and stylish colour palette help replicate the look and feel of stone whilst being warmer and quieter underfoot.
In addition, for added luxury Aqua-step is suitable for use with electric or water-fed underfloor heating systems.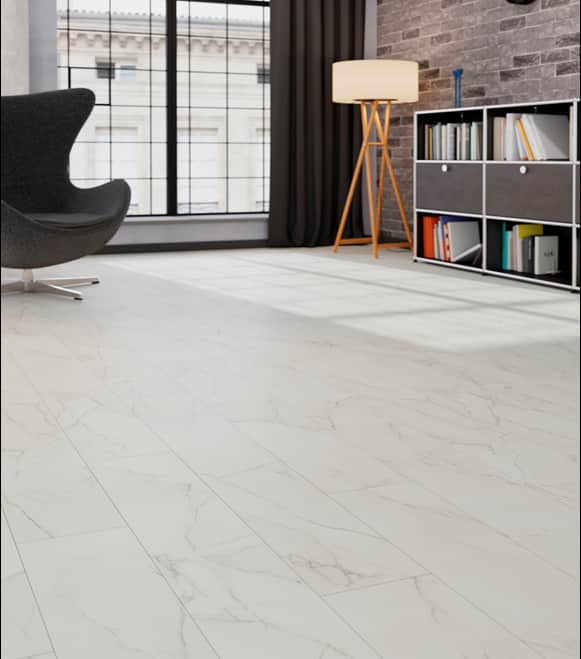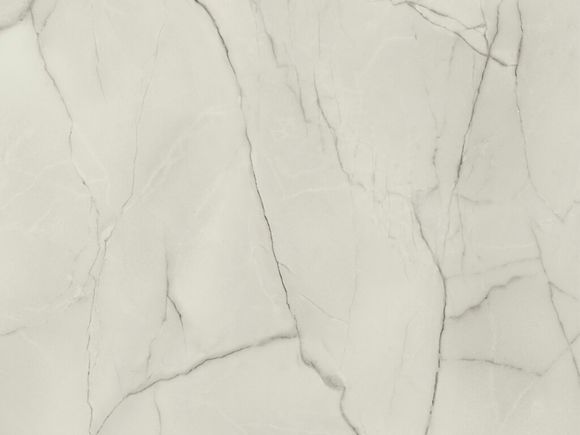 Marmor white marble effect (shown above & left) just oozes class. What's more it is equally at home in modern, or a more classic room setting
For example, Granite Grey (shown below) is one of those colours that just looks fantastic in any room setting. Use it as a neutral colour base to build your style upon. Not to mention it's suitable for bathrooms, kitchens, dining rooms, and even (as shown below) bedrooms.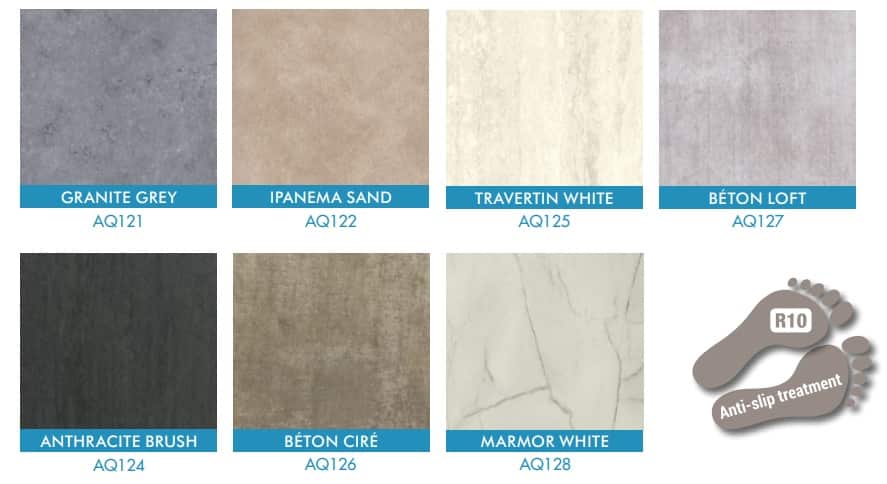 MINI TILE SIZE PEARL FINISH R9 AND DOUBLE FINISH
Aqua-Step Mini Tiles create a modern ceramic tile effect, but the 2 special finishes shown below take it even further. For instance, Travertin Anthracite features a smooth R9 pearl finish, whilst Paros Brown boasts a subtly textured double finish.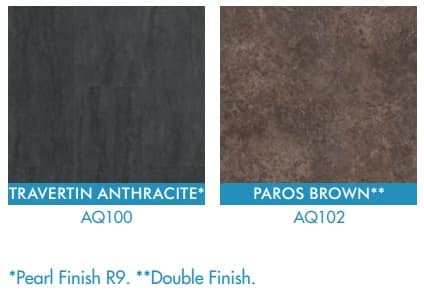 Aqua-Step Wood Effect Plank Range
Aqua-Step is available in a wide range of classic planks that look like real wood, but with the practicality of of 100% waterproof laminate flooring.
For example, Chambord Walnut (shown below) is a classic wood finish perfectly suited to both traditional and modern decor
Comparatively, Beachhouse Oak (shown below) will compliment most styles of decor, keeping the room light and airy.
Wood Effect Plank Finishes